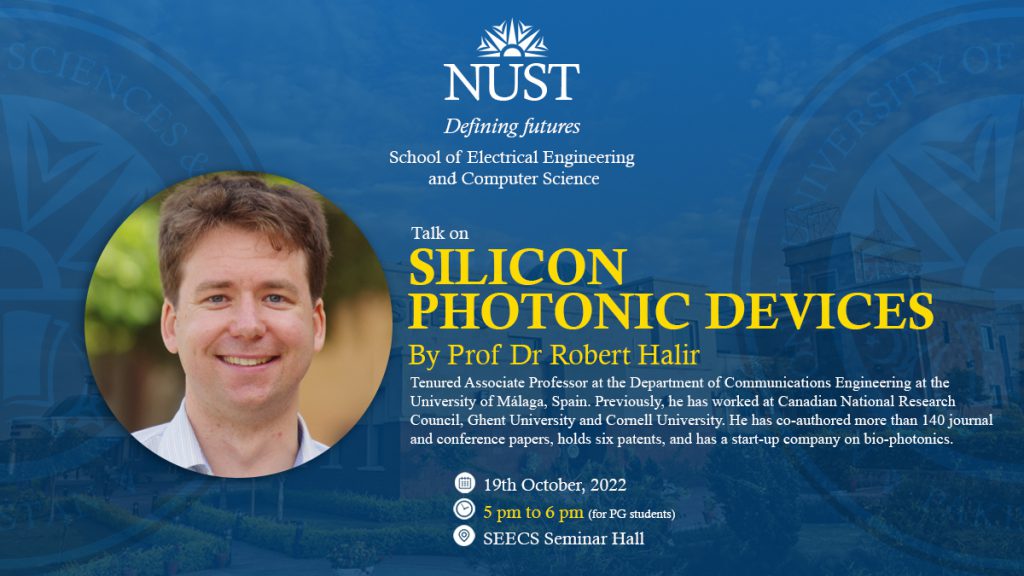 Topic of Research Seminar: Silicon Photonics Devices
Abstract: Dr Rober Halir is a Tenured Associate Professor at the Department of Communications Engineering at the University of Málaga, Spain. Previously, he has worked at Canadian National Research Council, Ghent University and Cornell University. He has co-authored more than 140 journal and conference papers, holds six patents, and has a start-up company on bio-photonics. He is going to provide a detailed view of how photonic devices are designed and implemented by using the standard Silicon based CMOS fabrication facilities.
Subject Field of Topic: Silicon Photonics Design
Name of Speaker: Dr Robert Halir
Professorial Rank of Speaker: Assoc. Prof, UMA, Spain
University Email of Speaker: rhalir@uma.es
Research Group Weblink: https://www.photonics-rf.uma.es/index.php/people?id=125
Affiliation of Speaker: International
Date and Venue: October 19, 2022 at 1700 hrs, SEECS Seminar hall, School of Electrical Engineering and Computer Science (SEECS) Seminar hall, NUST Islamabad Campus.